HLURB no. 28424 CR no. 23261
Villa Señorita is a middle cost housing located in Maa Diversion Road – almost fronting Gap Farm Resort. The subdivision project is developed by Jenson Land & Realty Development Corporation and Prestige Homes & Realty Development Corporation. Villa Senorita is inspired by a Filipino themed community with a total of 9.8 hectare project. It has four model houses : Sampaguita, Rosas
Financing Accepted: Bank Financing or Pag-ibig Financing
>> Click here for updated SAMPLE COMPUTATION as of July 2017
>> Click here for updated SUBDIVISION PLAN
>> Click here to view the 2-STOREY TOWNHOUSE & STUDIO UNIT of VILLA SENORITA
General House Specification:
Walls : 4″ thick CHB with plain cement plastered finished
Roof : Duratile colored roofing with 10mm thick Aluminum Insulation
Roof Framing: Stell Trusses
Ceiling: PVC soffits on metal Furring Frame
Toilet and bath: Tiled up to the window still (water closer with lavatory)
Kitchen : Granite slab kitchen counter with overhead cabinets
Windows: Sliding windows using 4.5 mm clear glass on Anolok Aluminum frame
Flooring : "12×12" ceramic tiles for toilet and bath ; "16×16" ordinary unglazed granite tiles for all areas.
Doors : Shop made painted Doors for main Entrance and Rooms ; PVC doors for Toilet and Bath
Main Gate : Steel Gate
Other features:
Simple Landscaping
Built-in Cabinets
Carport Driveway with concrete pavement
Laminated wooden planks for the flooring of the 2nd floor of Sampaguita House Mode
VILLA SENORITA HOUSE MODEL
>> ILANG-ILANG (SOLD)

Actual Ilang-Ilang Model House Video Tour

ROSAS
Rosas Actual Model House Video Tour

SAMPAGUITA
SAMPAGUITA HOUSE MODEL VIDEO TOUR

WALING-WALING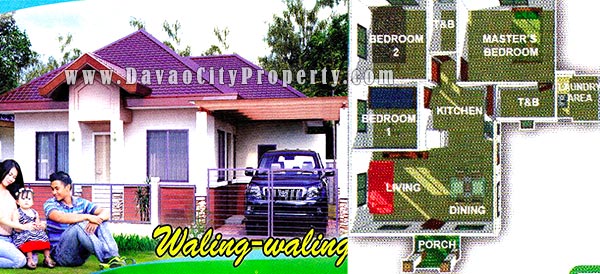 WALING-WALING – 144 sqm Lot Area; 60 sqm Floor Area
>> Click here to view SAMPLE COMPUTATION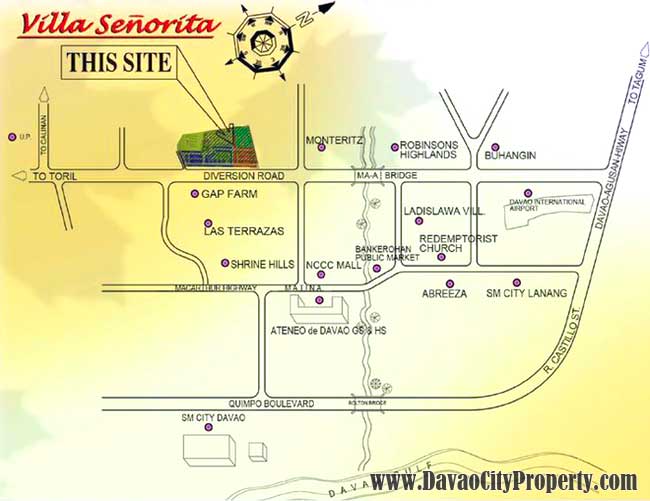 AMENITIES:
Requirements:
Application Form

Valid ID
Tin Number
Proof of Income (Contract with Salary, Employment Certificate, Pay Slip, ITR)
Birth Certificate for Single, Marriage Contract for Married
FAQs:
Q: When is the usual start of the house construction?
A: Upon full payment of the equity.
Q: Is there any available Ready For Occupancy Unit?
A: There is an available RFO house and lot with different package price/computation, please inquire.
>>STUDIO UNIT READY FOR OCCUPANCY
For other questions, not written in FAQ, please don't hesitate to contact the numbers below.
Inquire now!!! For inquiries, please fill out the fields below:
-OR- For House and Lot CONTACT Mobile/Viber/SUN: (+63) 923 749 0555 Mobile/Viber/WhatsApp/GLOBE: (+63) 997 644 3138 PLDT: (082) 271 2066 For Condominiums CONTACT: Mobile/Viber/SUN: (+63) 942 5607172 / (+63) 917 7994222 Email: info@davaocityproperty.com