Laureana Grand Plains is the latest project of SLDC in Puan Road, Talomo Davao City. It offers Lot only and House and Lot Property.
Project Size: 13.5 hectares
License to Sell #: 2021-024
SLDC is the developer of known subdivisions and condominium in Davao namely ILUMINA ESTATES (Communal) , IVORY RESIDENCES (Bajada), NOVATIERRA VILLAGE CELERINA HEIGHTS and LAVISTA MONTE.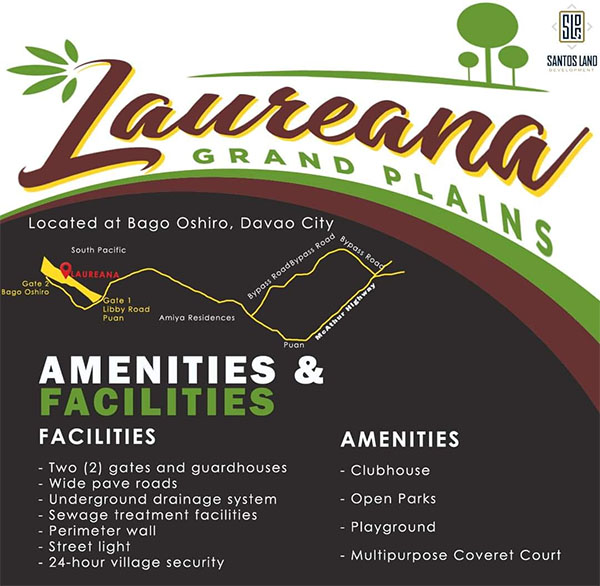 Introductory Price / Sq.m : P14k – P15,680 only
(Message us to assist you)
Cash Price: Less 14.5% discount
Installment:
30% CASH downpayment: Less 3% discount on the DP.
30% downpayment (Installment) = 0% interest for 6 months
70% Remaining Balance payable for 5 -10 years.
Invest Now and enjoy the Introductory price of the subdivision
Laureana Grand Plains view from above:
Sample Computation 193 sq.m Regular Lot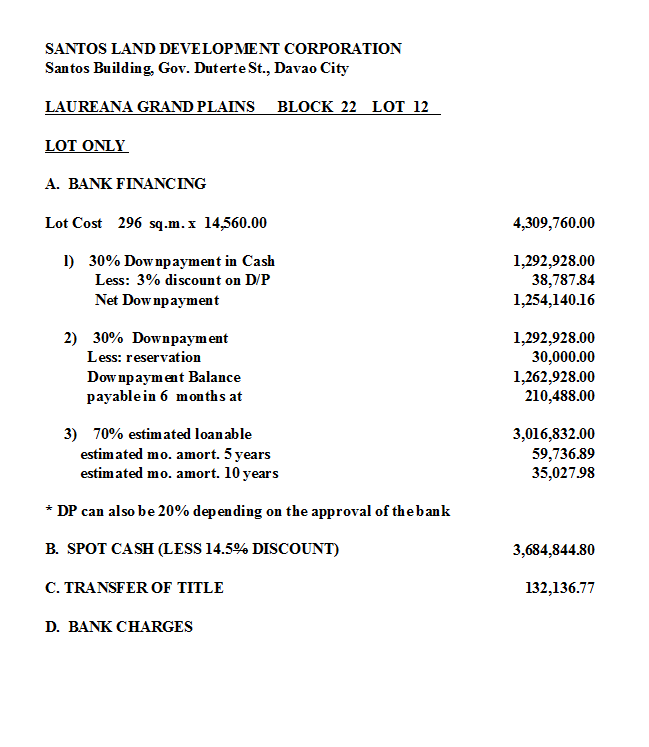 Sample Computation for 250 sq.m Corner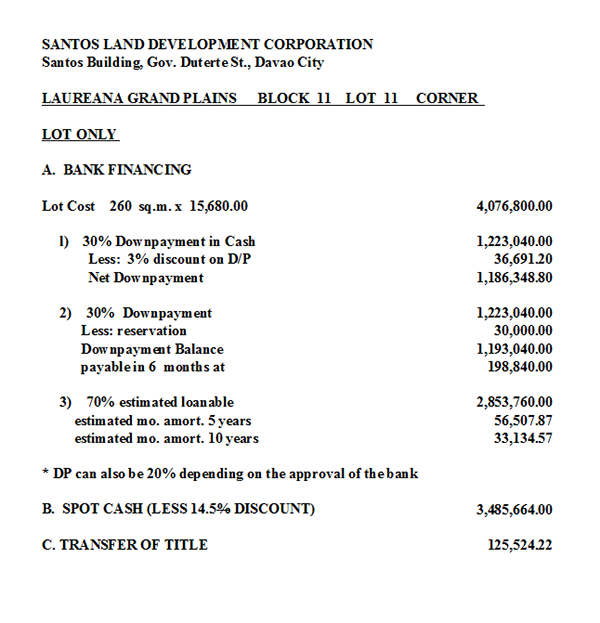 Inquire now!!! For inquiries, please fill out the fields below:
-OR- For House and Lot CONTACT Mobile/Viber/SUN: (+63) 923 749 0555 Mobile/Viber/WhatsApp/GLOBE: (+63) 997 644 3138 PLDT: (082) 271 2066 For Condominiums CONTACT: Mobile/Viber/SUN: (+63) 942 5607172 / (+63) 917 7994222 Email: info@davaocityproperty.com