Vivaldi Residences of Euro Towers International Inc. is NOW in Davao City – fresh from the successful launch and selling of Vivaldi Residences Quezon City. The first Condo-hotel in Davao City.
Vivalde Residences offers mix product of: Residential Units, Dorm Type Units, Commercial Units, Condotel Units and Parking Units.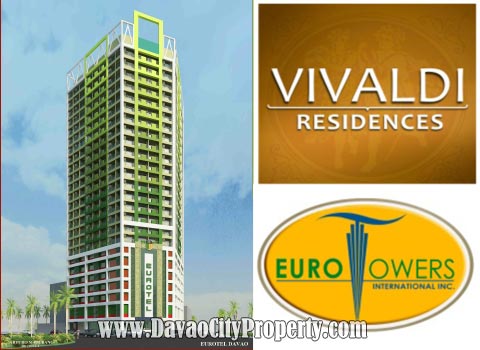 Vivaldi Residences Davao is located in Davao City's prime business district: Cor. CM Recto Ave. and cor. Ramon Magsaysay St.It is right in-front Ateneo de Davao University and walking distance to parks, shopping centers, banks and other business establishments that would make living more comfortable and accessible to almost everything.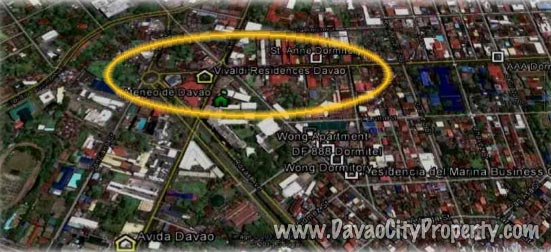 Vivaldi Residences is a 32 level Hotel and Residential area and will be excellent for business, pleasure and the comfort of a second home. Lot Area is approximately 1,000 sq.m. (All units with Commercial Arcade).
KINDS OF UNITS:
Studio (17-25 M2), One-Bedroom (28-42 M2), For 2 Bedroom: Tandem units studio combined with one bedroom condotel/condormitel: 16sq.m
The Tower:
Basement 1 & 2 : Parking Slots
Ground Floor : Hotel & Condo, Lobbies, Coffee Shop, Arcade, Office, Front Desk
2nd – 4th floor: Function 1 & 2, Kitchen, Registration, Condotel
5th – 7th floors : Condotel Units
8th – 14th floors : Dorm-Type Pads
15th-31st floors : Amenities
33rd floor: Penthouse Units
34th floor: View Deck
FEATURES:
Central Information and Assistance Counter.

Two (2) elevators each for Hotel and Condo with close circuit TV feature to service the residential units.

Automatic Fire Suppression System working in tandem with a central fire alarm system.

Emergency power back-up system for Common area facilities and equipments.

(2) fire exit stairs equipped with pressurization blowers to minimize the entry of smoke inside the stairwell during fire.

Public comfort rooms at the ground floor are provided for retail & building guests use.

Dual, underground and elevated water tank system assures ample water supply for daily consumption and fire reserve.

Closed Circuit TV at the residential elevator lobby security counter at the ground floor.

Parking levels feature a fully automated 24 hrs. traffic alarm signaling system.

Garbage chute.

Multi-purpose function room, swimming pool, gym, children's playground, multi-purpose deck and jogging area located at the amenities and roof deck levels.

Twenty four (24) hours association security.

Maintenance and janitorial services for common facilities by the association.

Storage units are available for sale.
RESIDENTIAL FEATURES:
Provision for window type air-conditioner outlet
Centralized individual self-service mailbox
Individual TV outlets with MATV services provided by the Condominium Association.

Built-in kitchen cabinets and bedroom closets for all units.

Counter top stove outlet provisions for studios, 1-bedroom and 2-bedroom units while electric range outlet provision is standard for 3-bedroom units.

Unit's emergency power based on provision by the Developer.

Provision for toilet exhaust fan tapping in selected units.

Exhaust pipe provision for kitchen on all units.

Two (2) and three (3) bedroom units are provided with door bell.

Water heater tapping provision at the toilet and bath of the master's bedroom for two (2) and three (3) bedroom units.

Power and space provision for single tub washing machine in all units.
PROJECTED DELIVERY: OCTOBER 2015.
Price: P75,000/sq.m. for the residential/dorm-type pads & P100,000/sq.m. for the condotel.
Studio Size:  16 sq.m (approx.).  1 Bedroom  35 sq. m.(approx.)  2 Bedroom  50 sq. m. (approx.)
EASY TERMS PAYMENT (Note: For Announcement Purposes Only – Price/term might change without prior notice)

OPTION 1:
10% – 50% Spot Downpayment with discount, Balance 32 months (No interest with Pdcs)
Option 2:
20% Spot Down Payment with discount
80% Balance monthly amortization starts on the 33rd month.
Option 3:
10% Spot Downpayment , 10% Balance Down Payment (32 months No interest with pdc.), 80% balance starts on the 33rd month)
Option 4:
10% 32 months no interest with pdc, 10% balance DP on the 32nd month. ,  80% Balance starts on the 33rd month.
Option 5:
20% Down payment in 32 months, 80% Balance starts on the 33rd month.
For in-house:
15 years with 18% interest p.a
10 years with 15% interest p.a
5 years with 13.5% interest p.a.
For bank financing:
Estimated 7.5%- 8% for BDO & PNB (You can check with your preferred bank.) Check payable to EURO TOWERS INTERNATIONAL, INC
SAMPLE COMPUTATION FOR CONDORMITEL (CONDO-DORMITORY)
Floor Area:  16 sq. m. @ P75,000/sq.m. Studio
Total Contract Price:  P1.2 M
20% DP  P240,000 Spot or installment (32 mos.) P7,500./mo.
 OR
10% DP  P120,000 Spot or Installment (32 mos.) approx.
P3,750/mo., balance
10% DP         P120,000 Balloon on the 33rd month
80% Bal.        Bank Financing/In-house (especially for condotel)
WHAT IS A CONDOTEL:
Condotel units are residential units converted to fully furnished hotel rooms that are enrolled and pooled under a Lease-Management arrangement with a hotel operator. Condotel Buyers would then earn with a share of the revenue/ profit from the hotel operations.
WHY IS CONDOTEL A GOOD INVESTMENT?
Security and Stability. Like regular condominium unit, a Condotel investment is secured and authenticated by a Certificate of Title issued by the local Registry of Deeds.
Better than Conventional Condo Leasing. Since the condo unit is managed by a professional Hotel Operator/Management company, a Condotel Owner enjoys the following:
Assured Monthly Income whether the unit is rented or not.
Higher Yield with a condo unit upgraded to a value -added hotel room.
Assured Upkeep of the unit.
Free Periods of Stay and use of the Hotel Facilities
Worry-free collection of Monthly Income directly credited to the Owner's bank account.
Prompt Payment of Payables – Association Dues, Taxes, Insurance and Utility Bills
Better than a Bank Deposit
 Much Higher Yield – at least triple the interest on time deposits.
Real Estate Asset Appreciation
Best Hedge against inflation
Disclaimer: For Announcement Purposes Only
We are already accepting LOI (Letter of Intent to Buy) for this project. Please secure your Letter of Interest now and be one of the first to be given priority on the project.
RESERVATION FEE:
Residential Unit: P15,000.00
Condotel: P 25,000

Inquire now for Vivalde Residences Davao project!!!
For inquiries, please fill out the fields below:
-OR-
Contact:
Lady Jozel Visitacion
(+63) 942-5607172 (SUN)
Email: info@davaocityproperty.com