The Harmony Subdivision is a project of Davao Joyful Homes – The developer of Victors Estate, Victors Valley, Sincere Subdivision and The Prestige Subdivision. The Harmony is located at Cabantian, Buhangin Davao City – at the back of NCCC Supermarket and Department Store.
The Subdivision now offers new sets of ELISHA town house model near the Subdivision Entrance/Exit. It has 115 to 149 sq.m lot area and 74 sq.m floor area. The Townhouse minimum package price is P2,110,000, the equity and the processing fee is P 621,454.08 payable in 36 months for P 17,262.61/ month only. The estimated loanable amount is P1,688,000 and estimated monthly amortization for 20yrs @ 7% interest rate is 13,087.06/month
as of the moment this project is already SOLD OUT!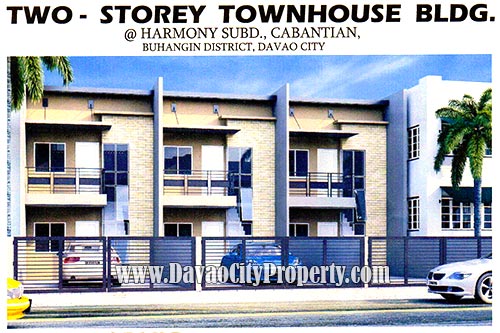 [Click HERE to VIEW the FLOORPLAN]
ELISHA MODEL HOUSE
Minimum Lot area: 115sqm; Floor area: 74sqm (2 Bedrooms, 2 Toilet & Bath)
Price: 2,106,000 (minimum)
Reservation Fee = P 10,000
EQUITY+processing fee: P 536,576 (36 mos to pay)
Payable 36mos. = P 14,904.90/mos
Estimated loanable amount: 1,676,800
Balance Payable by Pag Ibig or Bank Financing
Pag-ibig Estimated monthly amort. payable 30yrs: @ 6.5% int.  10,598.52/mo ;
Required Income=  P 35,328.39
Pag-ibig Estimated monthly amort. payable 20yrs: @ 6.5% int.  12,501.77/mo;
Required Income = P 41,672.57
>> CLICK HERE TO VIEW THE VICINITY MAP
GENERAL HOUSE SPECIFICATIONS:
ROOF
Lavern Type colored roofing with roof insulator
Steel Trusses for roof framing with gutter, downspout and catch basin.
CEILING
Hardiflex Board on metal furring frames
WALLS
Exterior – CHB on Perimeter Walls
Interior – Concrete Pre-Cast or Dry Walls
KITCHEN
600mm x 600mm ceramic tiles kitchen counter with below and overhead counter cabinets
TOILET & BATH
Basic Set – Water Closet, Lavatory & Shower Set
DOOR
Panel Door – Main Door, Service Door & Bedrooms
PVC Door for Toilet and Bath
WINDOWS
5mm Thk. Clear Glass on Anolok Aluminum Frame Sliding Window
FLOORING
3/4″ thk. Hardiflex Board Flooring or Steel Floor Framing
300 mm x 300mm Vinyl Tile on Second Floor Level
300 mm x 300 mm Ceramic Floor Tiles Ground Floor Level